Dubai Culture launches eighth edition of 'Live Our Heritage Festival'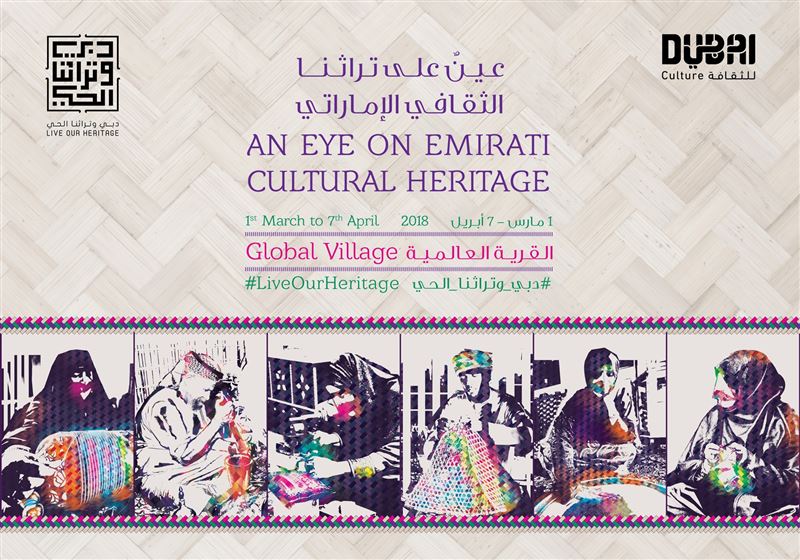 Dubai Culture & Arts Authority (Dubai Culture), the Emirate's dedicated entity for culture, arts and heritage, launched the eight edition of the 'Live Our Heritage Festival' in the Global Village under 'An Eye on Emirati Cultural Heritage' theme. Running until 7th April 2018, the festival offers Global Village visitors a chance to enjoy an action-packed six-week programme of workshops and events focused on handicraft education in the UAE.
The festival programme includes educational workshops focusing on traditional crafts in the UAE, such as: palm fronds braiding, veil making, thread weaving, perfume making, silver crafting and coffee making. Craftsmen will explain each craft, the concept behind it, and its history and presence in the Gulf, while also presenting manufacturing methods to raise the public's awareness of the raw materials and tools used. The festival will also feature an area showcasing handmade products, a reception area, and an arena for live shows.
"Dubai Culture is proud to continue the 'Live Our Heritage Festival', which celebrates its eighth edition this year. The festival reinforces our efforts to preserve Emirati heritage and support local craftsmen continuing to support the 'Year of Zayed 2018,' and celebrating the values of the late Sheikh Zayed bin Sultan Al Nahyan, who instilled us all with love and respect for our nation's heritage and traditions, as well as the will to convey them to future generations," said Saeed Al Nabouda, Acting Director General of the Dubai Culture.
"We would like to thank our partners at the Global Village for their support of the festival. Global Village visitors will have the opportunity to participate in various activities in both Arabic and English, which will enable us to reach out to various segments of society to raise further awareness of the UAE's heritage, as well as the level of effort we dedicate to maintaining it with the support of our wise leadership," Al Nabouda added.
Dubai Culture's Dubai Heritage Development Centres will also participate in a six-week event including events under a 'Year of Zayed 2018' theme, and other activities such as recycling materials into products of a heritage nature, folk songs, and presentations and workshops on traditional crafts conducted by the centres' students for the general public.
The festival will also highlight a number of popular arts including folk dance activities such as 'Al Ayyala,' 'Al Harbiya' and 'Al Andema', along with introducing the 'Yola' and 'Razfa' dances. These will be followed by an explanation of each art and meetings with folk arts specialists to familiarise the public with the history of each discipline.
The 'Live Our Heritage Festival' will be held in cooperation with Global Village, the Dubai Association of Folk Art, and Dubai Culture's Dubai Heritage Development Centres.
"We are delighted to partner with Dubai Culture & Arts Authority and support the 8th season of the Live Our Heritage Festival. It is a true representation of Emirati living heritage and our partnership is in line with one of the most important goals of Global Village – that of introducing our guests of different ages to various cultures from across the world and make sure it is passed through generations in the most innovative means. We are proud to be one of the oldest Emirati brands helping promote the culture of the UAE through our innovative events for the millions of guests that visit us every season," said Bader Anwahi, CEO of Global Village.
Dubai Culture aims to enhance Dubai's cultural scene and draw attention to the Emirate's rich heritage with a variety of initiatives that take place throughout the year. The Authority's mandate is to build bridges of constructive dialogue between different civilisations and cultures through enriching initiatives that benefit the Emirate's citizens, residents and visitors.