Dubai's Atlantis to launch world's first socialmedia fan suite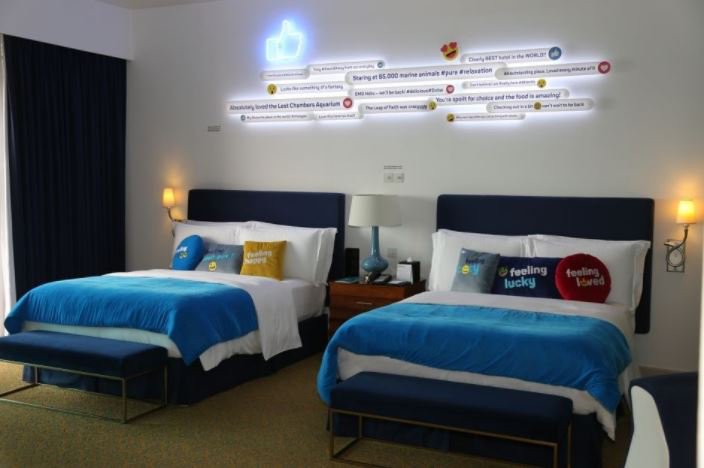 Atlantis, The palm has crossed one million fans in Facebook and unlike other companies, Atlantis is not just limiting their gratitude with a meagre Thank You. Instead they are opening up a suite for the facebookers. The five-star hotel launches the first ever social media fan suite and is offering a chance for a three-night free stay at the suite that will be hooked up with all the amenities a social media user desires.
Launching March 18, guests can check into the fan-only suite with their Facebook log in details and besides the breath-taking view of the palm, can tune into the special Facebook Fan channel on the in-room TV.
Alfred, the butler, who is specially assigned to the suite will provide concierge and white-glove services with a sing tap from the guest's Facebook Messenger. The guest can also 'poke' the Facebook fan wall, speak to order and be served in seconds. Guests can also go live via Facebook Live on the live chair and share their experience with #AtlantisFanSuite. Besides, sharing on social during the complimentary stay, the fan suite guest can also personalise amenities with 'Status Update Range' of toiletries options that match social media status updates and moods.
During the stay, guests will also receive Atlantis Imperial Club benefits worth over AED 3,000 per day (US $817), including VIP check-in, breakfast, access to the Imperial Club lounges for daily afternoon tea and evening drinks and canapes, kid's Club entry, and access to the Imperial Club Beach.
"Atlantis, The Palm's social media platforms receive an average of 2,500 posts tagging the resort every week and 147,762 uses of #AtlantisThePalm every year. To win a free stay at the social media suite, Facebook fans can visit www.atlantisfansuite.com and enter preferred dates from March 18 to April 30, 2018. All entrants must have 'liked' the Atlantis, The Palm Facebook page to be eligible to book a free stay in the suite.